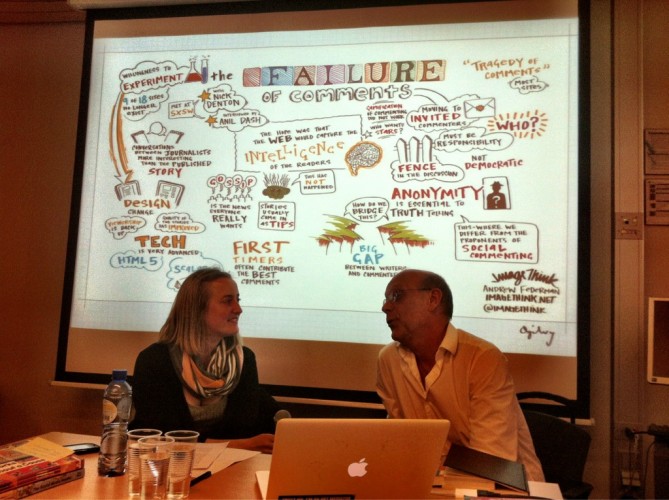 The Institute of Network Cultures, Eva van den Eijnde and myself would like to welcome you to the official book launch of Geert Lovink's new book Networks Without a Cause. A Critique of Social Media. Thank you very much for being here. Today I would like to start with a brief introduction to Geert's new book and how it relates to his previous work. Afterwards Geert will talk about his new book, followed by a few questions and comments from Eva van den Eijnde and myself, and of course questions from the audience.
Networks Without a Cause is the fourth book by Geert in his series of studies into critical internet culture. For those unfamiliar with Geert's work, the first book in this series is Dark Fiber (2001) which deals with early internet culture, from cyber culture to dot.com-mania. His second book My First Recession (2003) describes the aftermath of the dot.com mania and looks at the transition period of the dot.com crash to the early blogging years. His third book Zero Comments (2008) looks back on the blogging hype that has commenced since and addresses blogs as an unfolding process of "massification" and blogging as a "nihilistic venture." It also looks at the Web 2.0 hype or Web 2.0 mini-bubble that echoes the dot-com era but also differs from it as described by Geert. His new monograph, Networks Without a Cause (2012), continues where Zero Comments has left off by describing the late Web 2.0 era.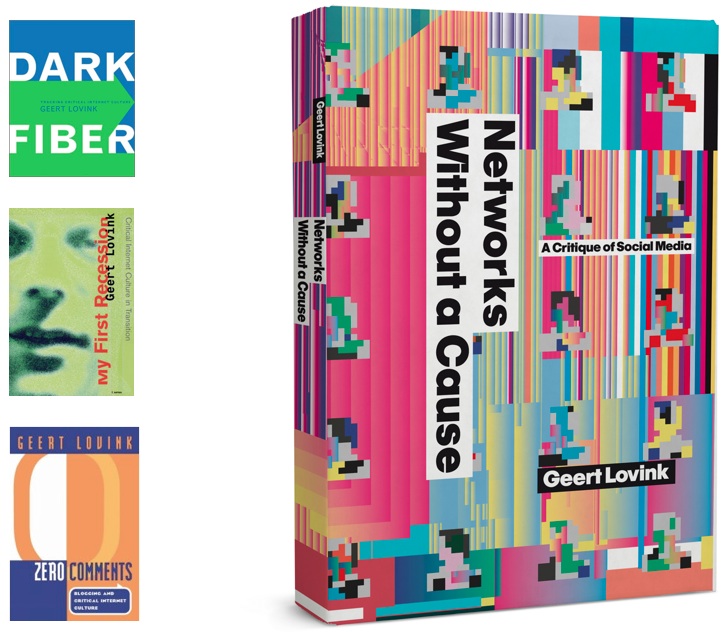 The introduction of Networks Without a Cause starts with the important umbrella question "How do we capture Web 2.0 before its disappearance?" The rise of the real-time signifies a fundamental shift from the static archive and handcoded HTML websites toward "flow" and the "river" as metaphors of the real-time, where the software, social media platforms, are automatically generating content flows from the input from their users. Blogs and blog software have played an important role in this shift, with the reverse-chronology of blog entries and the river of fresh content produced by RSS feeds. Real-time is a key feature of social media platforms such as Facebook with its news feed and Twitter with its timeline, where content flows by, begging the question for researchers how to capture and archive this flow in order to be able to analyze it, and for Geert also the question of "why store a flow?" related to the notion of users no longer saving their files for offline retrieval but instead moving, storing and syncing everything in the cloud (think for example about Gmail and Dropbox) but also the question of identity management because "how do you shape the self in real-time flows?" (p. 11) These and many other questions posed throughout the book are part of a "Net criticism" project that seeks to develop sustainable concepts as individual building blocks that through dialogues and debates "will ultimately culminate in a comprehensive materialist (read: hardware- and software-focused) and affect-related theory." (p. 22) ((Lovink, Geert. Networks Without a Cause. A Critique of Social Media. Polity Press, 2012.))
Question 1: Web 2.0 versus social media
Is it a coincidence that a number of books dealing critically dealing with "social media" are coming out at the same time? This book Networks Without a Cause with its subtitle A Critique of Social Media, also The Social Media Reader a volume on the topic with contributions by well-known authors on the subject where, in the introduction the term Web 2.0 is called a buzzword, that on the one hand has been "emptied of its referent, it is an empty signifier: it is a brand." (p. 4) ((Mandiberg, Michael (editor). The Social Media Reader. New York University Press, 2012.)) but on the other hand encapsulates an aspect of the phenomenon of social media. And finally, the upcoming book by Andrew Keen called Digital Vertigo that addresses the threat of the social and the tension between the collective social and the individual in "today's creeping tyranny of an ever-increasingly transparent social network that threatens the individual liberty." ((Keen, Andrew. Digital Vertigo: How Today's Online Social Revolution Is Dividing, Diminishing, and Disorienting Us. Forthcoming, May 2012.)) Geert also addresses related issues in his book when describes "The social as a feature." He describes how "Social media as a buzzword of the outgoing Web 2.0 era is just a product of business management strategies and should be judged accordingly." (p. 6)
Is Web 2.0 a thing from the past? As a lecturer in the first year of Mediastudies at the University of Amsterdam I was surprised to learn this year that my students were not familiar with the term Web 2.0 at all! Everyone had heard of social media, everybody except for one privacy conscious student, was a member of Facebook, but none of them had heard of the term Web 2.0. This is also illustrated in the following image: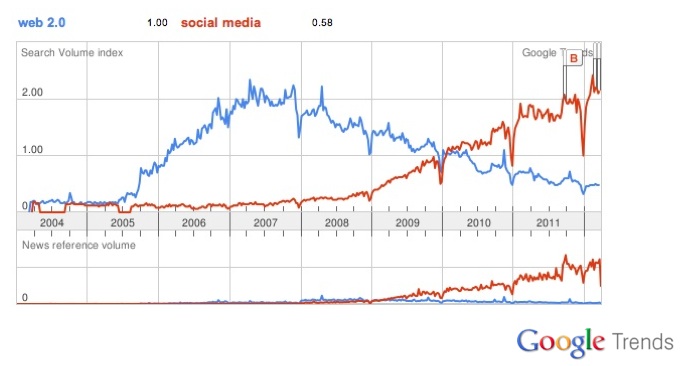 What is the relation between Web 2.0 and social media when thinking not only about terminology but also about software, practices and critiques?
Question 2: Comment cultures
While in Zero Comments Geert focused on the average blog with its zero comments, in Networks Without a Cause he focuses on the other end of the Power Law diagram and looks at blogs that have reached a critical mass. In the introduction he writes how in Web 2.0: "Current software invites users to leave short statements but often excludes the possibility for others to respond. Web 2.0 was not designed to facilitate debate with its thousands of contributions. […] What the back-office software does is merely measure "responsiveness": in other words, there have been that many users, that much judgment, and that little debate." p. 19
While blogs offers a form of facilitated debate by offering the possibility of comments, it is highly hierarchical due to the strict separation of content and comments. On top of that bloggers are continuously debating how to improve the old blog comment infrastructure in order to deal with the "tragedy of the comments" that have caused some bloggers to shut down their comments.
Geert argues that thinking about the software-architecture to design the comment ecology is important because software co-produces a social order. Could you further elaborate on current comment cultures, your ideas to go beyond taming the commentators, and the increasing splintering comment ecology with the conversation also moving to social media platforms such as Twitter and Facebook with no proper way to connect all these distributed comments back to the original text?