On Tuesday we celebrated the book launch of Frank Meeuwsen's Bloghelden, a history of the Dutch blogosphere from 1995 to 2005, at SETUP in Utrecht. I was asked to give a presentation on a project Esther Weltevrede and I are working on: Mapping the Dutch blogosphere over time.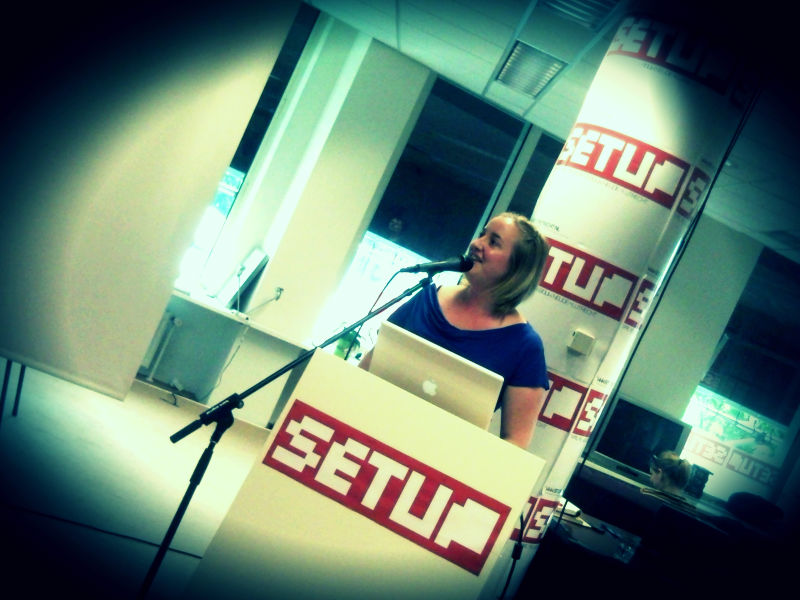 In his article 'Links, Lives, Logs: Presentation in the Dutch Blogosphere' from 2003 author Frank Schaap distinguishes two types of bloggers in the Dutch blogosphere: the lifeloggers and the linkloggers. ((Frank Schaap, 'Links, Lives, Logs: Presentation in the Dutch Blogosphere', Into the Blogosphere: Rhetoric, Community, and Culture of Weblogs < http://blog.lib.umn.edu/blogosphere/links_lives_logs.html> [)) These two types of blogs, the lifelogs and the linklogs, have very specific and different linking patterns. Anno 2010 we can distinguish a new type of blog: the platformlog.
The aim of this study is to map changing blogging practices within the Dutch blogosphere. This may be done by looking at changing linking practices and studying the linking structure of the Dutch blogosphere.
Method
Create a startlist of URLs. In this casestudy we compiled a list from experts: Arie Altena, Gert-Jan Lasterie, Frank Meeuwsen's Bloghelden book, Merel Roze's article on the Dutch Blogosphere in Schrijven Voor Het Web, and Frank Schaap's article. In the future this list will be supplemented with the Webloglijst (an early semi-manual Technorati) and Nedstat top 1000 weblogs' statistics.
Create hyperlink networks over time with the Issuecrawler.
Preliminary findings
Twitter, Flickr, Facebook, Hyves and other social media platforms appear as important actors within the network. In this sample of May 2010 Twitter is the dominant platform in the Dutch blogosphere receiving 34484 links from the crawled population. In 2010 social media platforms receive the most links from the crawled population indicating their prominence on the web and in the blogosphere. Claim: We have moved from a bloggers A-list to a platform A-list consisting of a top three of: Twitter, Flickr and YouTube. The linking structure of the Dutch blogosphere anno 2010 is characterized by social media platforms.
Maps
Click on the maps to download a hi-res PDF file (around 800K).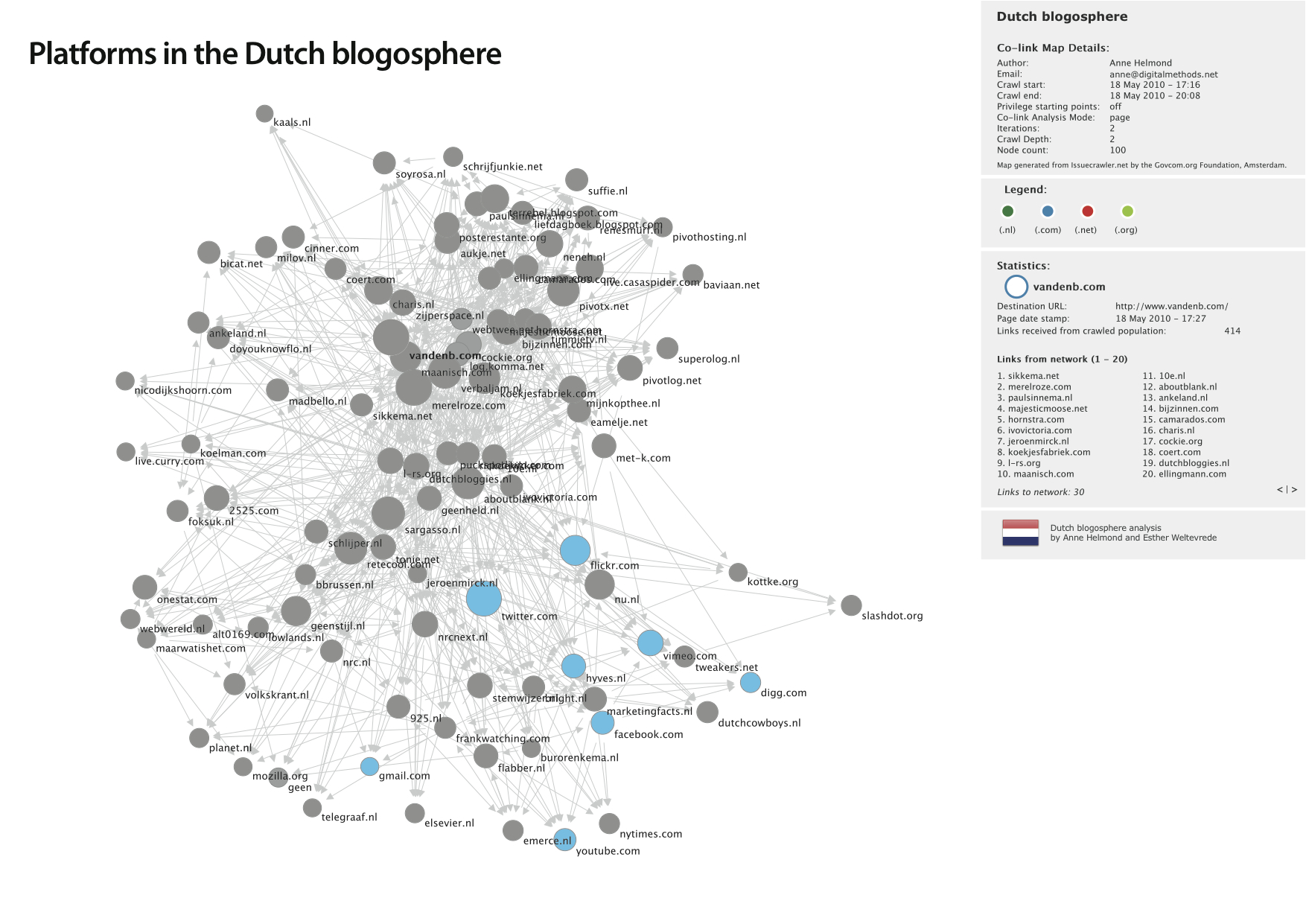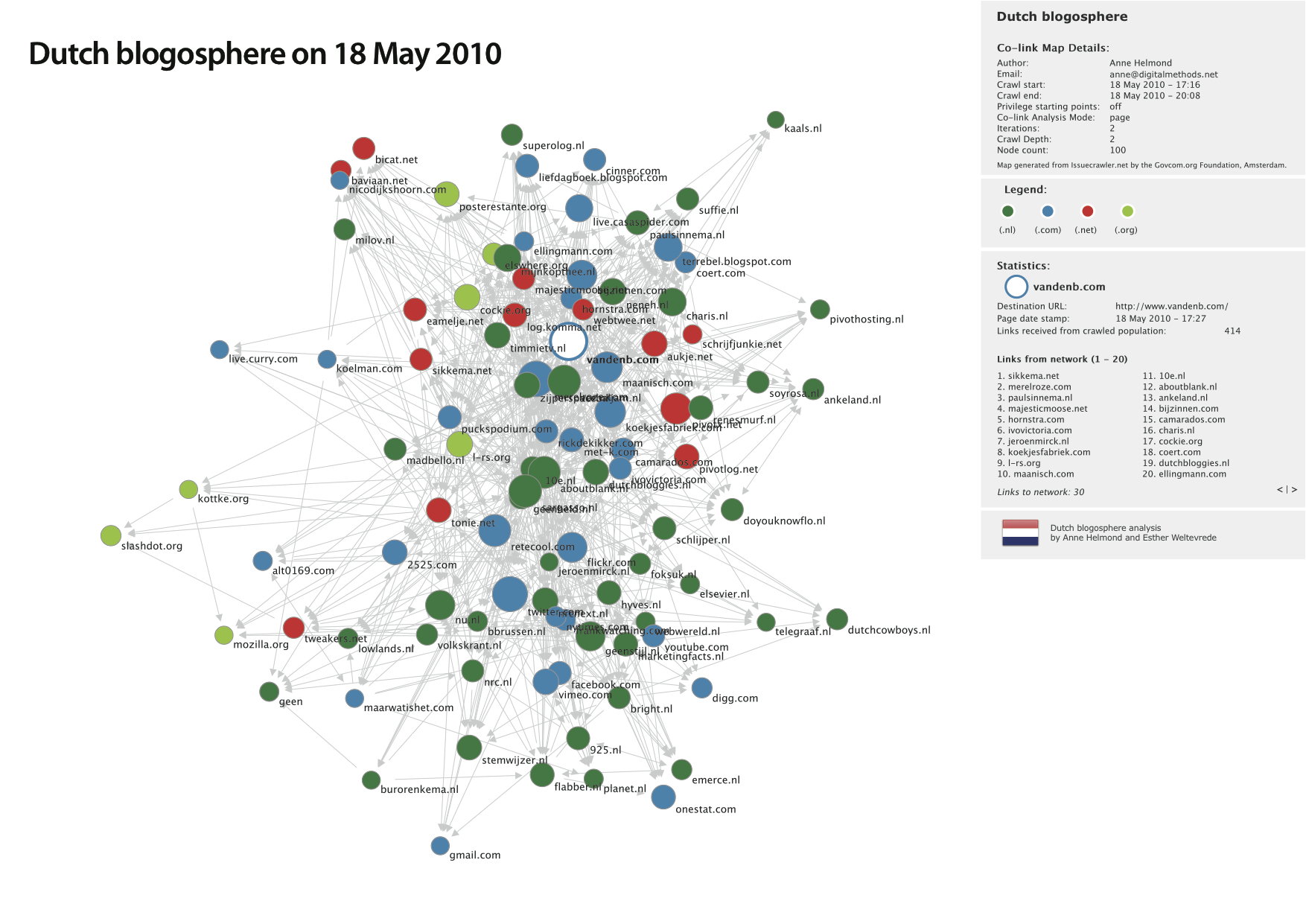 Further research
Look up URLs in the Internet Archive and create a special collection by archiving them. Visualize hyperlink networks over time with Gephi.
How do linking practices change and which clusters emerge? When do the social media platforms arrive?
Diagnosing the current condition of the early Dutch blogosphere.
Slides in English & Dutch
[slideshare id=4342751&doc=anneblogheldenen-100528074005-phpapp01]
[slideshare id=4342346&doc=annebloghelden-100528064058-phpapp01]