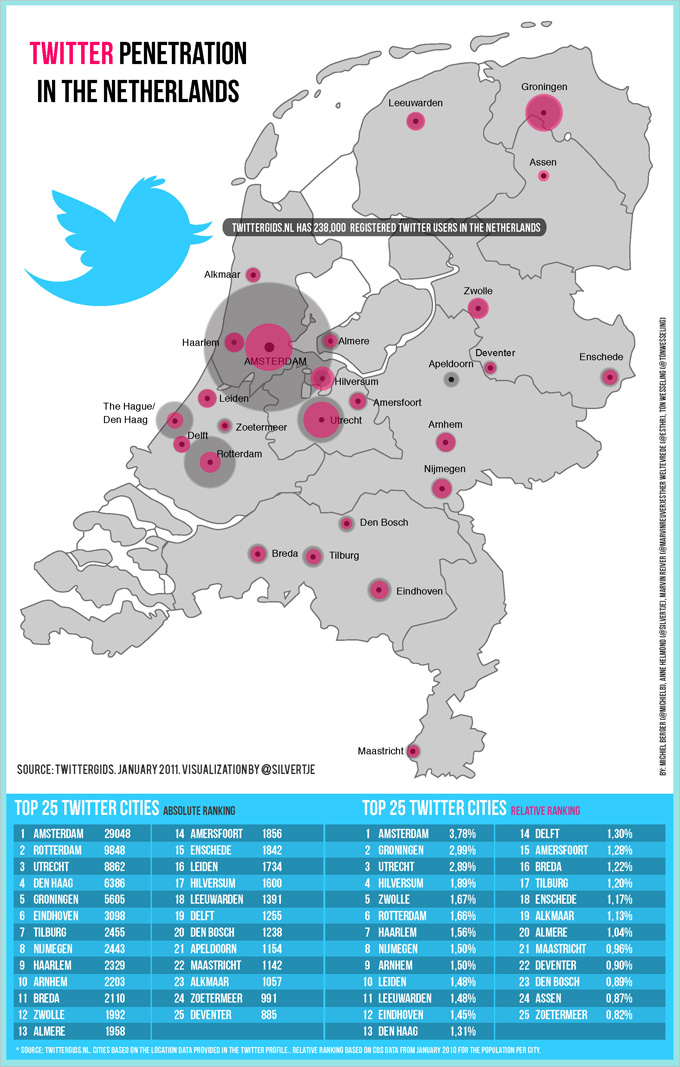 Credits: Michiel Berger (@michielb), Anne Helmond (@silvertje), Marvin de Reuver (@marvindereuver), Esther Weltevrede (@esthr) and Ton Wesseling (@tonwesseling)
This final image has been made with the help from Ton Wesseling who calculated the percentage of Twitter users per city, using data about the number of inhabitants per city from CBS (January 2010).
Looking at the Twitter penetration per city in the top 25 we see that Amsterdam retains its #1 position with an estimate of 3,78% of the population having a Twitter account while some other major cities drop in ranking (Rotterdam from 2 > 6 and Den Haag from 4 > 13).
In this new view we see some cities climbing (eg. Groningen #2 – 2,99% , Hilversum #4 – 1,89%, – Zwolle #5- 1,67%) and others declining (Rotterdam #6- 1,66% , Eindhoven #12- 1,45%, Den Haag #13 – 1,31%). Many of the cities that climb in the ranking are student cities like Groningen, Zwolle, Leiden, Leeuwarden, Delft and Maastricht.
Thank you Ton!
Download a hi-resolution map on our project website for beautifying your office.
Map updated on January 22: Added Apeldoorn (# 21 in absolute ranking and no longer in the top 25 for relative ranking) and fixed an error in the relative ranking row. Map needs more updating concerning bubble size.