I'm not a big fan of Google's new result page which seems to favor freshness and a ubiquity of entry points over relevance. Or, in other words, it is increasingly referring to itself (Google News, Updates, YouTube) for results as may be seen in the following picture: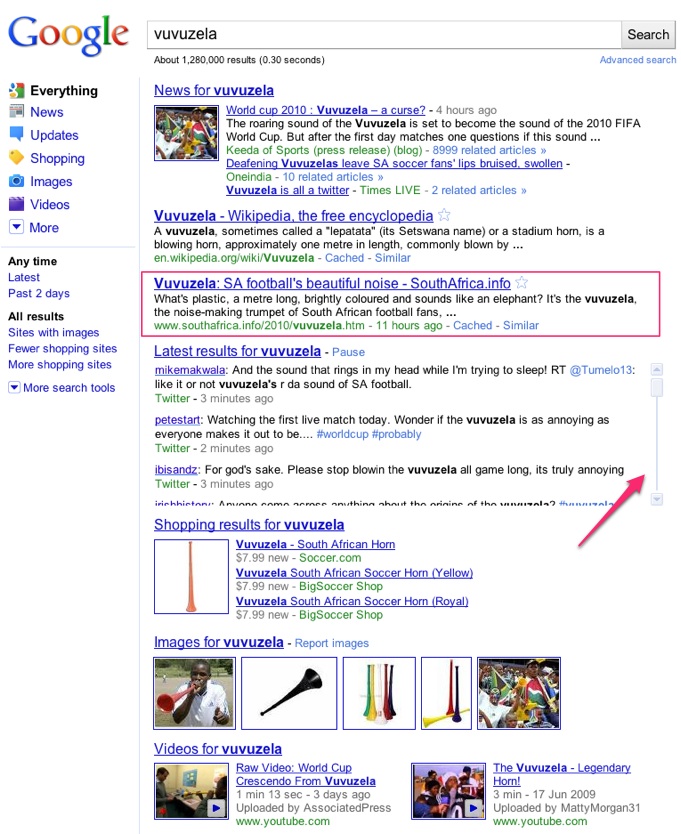 Let's look at the ranking of the results:
Google News Results
Google's best friend Wikipedia (hitting Google's "I'm feeling lucky" button more than often sends you to a Wikipedia entry. Or as Mathys from Mobypicture stated: "When Google is out of luck (when it doesn't know where to send you after hitting the "I'm feeling lucky" button) it will send you to Wikipedia
A "plain" website.
Realtime results from the Updatesphere. Note that these updates are constantly refreshed so that there is always something moving.
Shopping
Images
Video
There is only one "plain" website listed on the first half of the page. All the other entries refer to Google's subspheres like News, Updates, Shopping, Images, Videos except for Wikipedia. By showing a variety of results from its other indices it is becoming self-referential.
It's no news that Google Google loves fresh content and especially updates. With its many indexing deals with popular micro-blogging platforms like Twitter, FriendFeed and Identi.ca it has access to a big amount of new and fresh content. At the end of 2009 Google started displaying status updates in their results and shortly after Google officially welcomed the updatesphere as a subsphere of the web that can be searched. This subsphere has now penetrated the Google front page, along with Google's other subspheres.
In "organizing the world's information" Google is becoming increasingly self-referential.