My co-authored article with David M. Berry, Erik Borra, Jean-Christophe Plantin and Jill Walker Rettberg on "The Data Sprint Approach: Exploring the field of Digital Humanities through Amazon's Application Programming Interface" has been published in Digital Humanities Quarterly, Volume 9 Number 4.
Abstract
This paper documents the results of an intensive "data sprint" method for undertaking data and algorithmic work using application programming interfaces (APIs), which took place during the Digital Method Initiative 2013 Winter School at the University of Amsterdam. During this data sprint, we developed a method to map the fields of Digital Humanities and Electronic Literature based on title recommendations from the largest online bookseller, Amazon, by retrieving similar purchased items from the Amazon API. A first step shows the overall Amazon recommendation network for Digital Humanities and allows us to detect clusters, aligned fields and bridging books. In a second step we looked into four country-specific Amazon stores (Amazon.com, Amazon.co.uk, Amazon.fr and Amazon.de) to investigate the specificities of the Digital Humanities in these four countries. The third step is a network of all books suggested for the Electronic Literature field in the four Amazon stores we searched, which offers a comparison to the field of Digital Humanities.
The full article is available online at Digital Humanities Quarterly.
Deze ochtend was ik samen met Dr. Karin van Es (UU) te gast bij Radio Swammerdam, het wetenschapsprogramma van AmsterdamFM, om te praten over liveness, realtime, APIs en de politieke economie van sociale media platformen. Karin sprak over haar proefschrift 'The Paradox of Liveness. From the Broadcast Media Era to the Social Media Era' (vanaf 09:26 minuten) en ik sprak over mijn proefschrift 'The web as platform: Data flows in social media' (vanaf 31:35 minuten) en samen discussieerden we over het verschil tussen liveness en realtime (vanaf 44:45 minuten). Luister de uitzending terug op SoundCloud of beluister de podcast op iTunes.
My article on 'The Platformization of the Web: Making Web Data Platform Ready' has been published in the first issue of the new (open access) journal Social Media + Society.
Abstract
In this article, I inquire into Facebook's development as a platform by situating it within the transformation of social network sites into social media platforms. I explore this shift with a historical perspective on, what I refer to as, platformization, or the rise of the platform as the dominant infrastructural and economic model of the social web and its consequences. Platformization entails the extension of social media platforms into the rest of the web and their drive to make external web data "platform ready." The specific technological architecture and ontological distinctiveness of platforms will be examined by taking their programmability into account. I position platformization as a form of platform critique that inquires into the dynamics of the decentralization of platform features and the recentralization of "platform ready" data as a way to examine the consequences of the programmability of social media platforms for the web.
The full article is available online at Social Media + Society.
On September 23, 2015 I will publicly defend my dissertation 'The web as platform: Data flows in social media' at the University of Amsterdam. Read the English summary/Nederlandse samenvatting or download the full dissertation as PDF (43Mb).
Abstract
This dissertation looks into the history of Web 2.0 as "the web as platform" (O'Reilly 2004) and traces the transition of social network sites into social media platforms to examine how social media has transformed the web. In order to understand this process from an infrastructural perspective, I develop the concept of "platformization". This notion refers to the rise and consequences of the platform as the dominant infrastructural and economic model of the social web. Platformization, I argue, rests on a dual logic of social media platforms' extension into the rest of the web and, simultaneously, their drive to make external web data "platform ready". I draw on digital methods to study the effects of social media on the web's infrastructure and formulate a platform critique by examining the platform-specific objects that have been introduced by social media platforms such as social buttons and short URLs. Doing so, the thesis offers a contribution the emerging fields of software studies and platform studies. As part of this undertaking, I put forward new methods that I frame as digital methods for platform studies which utilize medium-specific features to explore the dynamics of platformization. I propose a new branch of platform studies that I call platform infrastructure studies, which analyzes the ecosystem of software platforms with platform-specific digital methods.
An English version of this text has appeared in the Internet Policy Review.
Een nieuwe versie van deze tekst is verschenen in de Correspondent.
Heb je de nieuwe Data Policy van Facebook al gelezen? Of heeft u, net als vele gebruikers, de notificatie bovenaan in de nieuwsfeed zonder te lezen weggeklikt en de email van Facebook genegeerd?
Onderzoek heeft aangetoond dat weinig mensen mensen de Terms of Service, de gebruikersvoorwaarden van een dienst, gedeeltelijk of helemaal lezen. Dat is ook niet zo verwonderlijk als je bijvoorbeeld kijkt naar de Algemene Voorwaarden van iTunes (Apple) die ruim 16.000 woorden, zo'n 40 pagina's, bevatten. Daarnaast zijn de voorwaarden vaak in gecompliceerde juridische taal geschreven waardoor ze niet makkelijk te lezen zijn. De nieuwe voorwaarden van Facebook zijn gelukkig wat korter en toegankelijker geschreven.
Naast de Terms of Service zijn er echter vaak nog vele aparte documenten waarin beschreven staat wat er met onze data gedaan wordt. Zo hebben Facebook en Twitter bijvoorbeeld aparte Data Policies, Privacy Policies en Cookie Policies waarin beschreven staat hoe data wordt vergaard en hoe en door wie het wordt gebruikt. Dat er verschillende documenten naast elkaar bestaan maakt het nog onwaarschijnlijker dat alle gebruikers goed op de hoogte zijn van alle voorwaarden. Deze belangrijke documenten worden regelmatig gewijzigd en geüpdatet. Zo kondigt Facebook nu een nieuwe Data Policy aan die op 1 januari 2015 ingaat.
Ik ben sinds 2010 geïnteresseerd in de data-praktijken van Facebook en heb hierover gepubliceerd met collega Carolin Gerlitz in het artikel "The Like Economy." Dit artikel gaat over de rol van Facebook en specifiek de Facebook Like Button in het creëren van een data-intensieve infrastructuur op het web waarin er constant waardevolle gebruikersdata wordt uitgewisseld tussen Facebook, adverteerders en externe websites en apps die met Facebook integeren. Voor dit onderzoek lazen wij alle documenten van Facebook en sindsdien lees ik alle nieuwe documenten die uitkomen heel aandachtig.
Wat staat er eigenlijk in?
Het is de moeite waard om het zelf helemaal door te lezen, maar hierbij enkele dingen die mij opvielen:
#1 Meer en meer data
Het belangrijkste aspect dat duidelijk wordt na het lezen is dat Facebook nog meer data van ons verzamelt via nog meer kanalen, diensten en partners. Een kleine greep uit het document: alle data en content die je produceert op Facebook, alle data die je vrienden over je kenbaar maken, de contacten van je adresboek uit je telefoon (als je bijvoorbeeld Facebook toestaat je vrienden te zoeken op basis van je bestaande contacten), alle financiële transacties via Facebook (bijvoorbeeld als je Candy Crush op Facebook speelt) en alle informatie over de computer, tablet of telefoon die je gebruikt. Daarnaast wordt er data verzameld over alle externe websites die je bezoekt en alle apps die je gebruikt die geïntegreerd zijn met Facebook, maar ook via derde partijen (partners van Facebook zoals adverteerders).
Vroeger ontkende Facebook haar gebruikers te volgen op externe webpagina's met bijvoorbeeld een Like Button en deze data te gebruiken voor advertenties. De nieuwe voorwaarden nemen elke vorm van twijfel hierover weg.
#2 Data wordt gedeeld met andere Facebook diensten
Gebruik je WhatsApp of Instagram? Deze diensten zijn ook van Facebook en de nieuwe Data Policy maakt duidelijk dat Facebook alle data van deze diensten ook ontvangt (en vervolgens kan koppelen aan je Facebook data).
#3 Je vrienden kunnen privé informatie publiek maken
Na kritiek op de gecompliceerde privacy instellingen heeft Facebook een nieuwe dienst gemaakt genaamd 'Privacy Basics.' Hier kun je stap-voor-stap je privacy instellingen doorlopen en aanpassen. Het idee is om de gebruiker meer controle te geven over wat andere kunnen zien, maar de nieuwe voorwaarden laten zien dat dit slechts een schijnconstructie is. Zo kun je je eigen instellingen proberen dicht te timmeren, maar als je vrienden je content alsnog delen, wordt deze content onderhevig aan hun privacy instellingen! Met andere woorden, wat privé bedoeld was, kan plotseling publiek worden! Zoals Facebook stelt: "In some cases, people you share and communicate with may download or re-share this content with others on and off our Services. When you comment on another person's post or like their content on Facebook, that person decides the audience who can see your comment or like. If their audience is public, your comment will also be public."
#4 Je vrienden kunnen apps die zij gebruiken toegang geven tot jouw data. 
Dit is niet nieuw (zie de oude voorwaarden), maar verdient opnieuw de aandacht. Je vrienden bepalen welke data van jou gedeeld wordt met apps die zij gebruiken. Het wordt steeds lastiger om controle te houden over met wie je data gedeeld wordt, omdat deze controle ook bij je vrienden ligt. Je kunt zien wat je vrienden automatisch delen met apps in de App Settings op Facebook. Wil je dit niet, dan moet je alle Facebook Platform apps uitzetten maar hiermee kun je ook niet meer dingen liken op externe webpagina's. Je kunt dus niet zeggen dat data niet wordt doorgegeven aan de apps van je vrienden zonder dat je alle andere functionaliteit van Facebook ook opgeeft.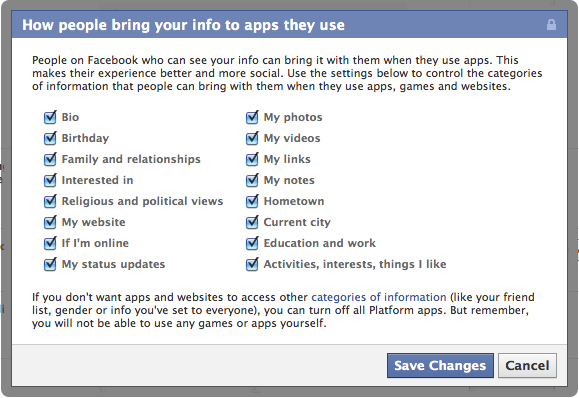 Like it or leave it?
Kun je nee zeggen tegen het nieuwe aangekondigde beleid van Facebook? Nee, want in principe stem je automatisch in met de praktijken die in het document beschreven staan als je Facebook gebruikt. Is Facebook verlaten dan de enige oplossing als we het er niet mee eens zijn? Ook dat is niet voldoende, want Facebook verzamelt ook zo veel mogelijk data van niet-Facebook-gebruikers die webpagina's en apps gebruiken die verbonden zijn met Facebook services.
Als je het niet eens bent met de data verzamelingspraktijken van Facebook kunt je de actiegroep "Europe versus Facebook" steunen. Deze groep is begonnen door de Oostenrijkse rechtenstudent Max Schrems en ze hebben al heel veel zaken bij de Ierse Data Protection Commissioner neergelegd (omdat Facebook in Europe vanuit Ierland opereert). Op dit moment is Europe versus Facebook bezig met een groepsrechtszaak tegen Facebook waarin 25.000 Europese gebruikers zich verenigd hebben. Enkele dagen geleden werd helaas duidelijk dat Facebook er alles aan doet om de zaak zo lang mogelijk te rekken maar deze nieuwe data policy biedt mogelijk weer veel stof voor een nieuwe zaak.
Deze blogpost is geschreven voor het Faces of Science project van de KNAW en De Jonge Akademie, waar jonge wetenschappers vertellen over hun leven, onderzoek en passies.
My co-authored article, with colleagues Esther Weltevrede and Carolin Gerlitz, has been published in Theory, Culture & Society
Abstract
This paper inquires in the politics of real-time in online media. It suggests that real-time cannot be accounted for as a universal temporal frame in which events happen, but explores the making of real-time from a device perspective focusing on the temporalities of platforms. Based on an empirical study exploring the pace at which various online media produce new content, we trace the different rhythms, patterns or tempos created by the interplay of devices, users' web activities and issues. What emerges are distinct forms of 'realtimeness' which are not external from but specific to devices organized through socio-technical arrangements and practices of use. Realtimeness thus unflattens more general accounts of the real-time web and research, and draws attention to the agencies built into specific platform temporalities and the political economies of making real-time.
The full article is available online at Theory, Culture & Society and available for download as pdf.