On Saturday, May 4th I attended the 'The Work of Algorithms' panel where Nick Seaver talked about Knowing Algorithms. In his talk Seaver discusses the issue of dealing with proprietary algorithms within research and how a focus on this proprietary or 'black box' aspect has skewed our criticisms of algorithms. Strands of research dealing with proprietary algorithms, such as Google's PageRank or Facebook's EdgeRank, focus on user experimentation and engaging systematically with the system in order to derive findings. Seaver argues how this is problematic since algorithms do not only adapt over time, where in the beginning algorithms behave differently then when they have adjusted to the user,1 but also how algorithms are unstable in themselves as may be seen in the case of A/B testing:
Over the past decade, the power of A/B testing has become an open secret of high-stakes web development. It's now the standard (but seldom advertised) means through which Silicon Valley improves its online products. Using A/B, new ideas can be essentially focus-group tested in real time: Without being told, a fraction of users are diverted to a slightly different version of a given web page and their behavior compared against the mass of users on the standard site. If the new version proves superior—gaining more clicks, longer visits, more purchases—it will displace the original; if the new version is inferior, it's quietly phased out without most users ever seeing it. A/B allows seemingly subjective questions of design—color, layout, image selection, text—to become incontrovertible matters of data-driven social science. (Christian 2012)2
At the moment there might be 10 million different versions of Bing because of A/B testing with algorithms and their results in realtime, so even if we engage systematically with Bing for research purposes, which Bing are we talking about? Algorithms also change over time as Facebook and their EdgeRank algorithm are constantly in motion: You cannot step into the same Facebook twice.
Some researchers argue that the solution to knowing the algorithm is "behind the wall" and that we can only explain "the outside" or the workings of the algorithm if you have access to the "inside" or the formula. But, Seaver argues, there is no "inside" the algorithm and there is no "knowing" the algorithm without understanding the context in which algorithms are made. We have to understand the context algorithms are created in, which may serve as moments of stabilization as social details become translated into technical details. Therefor, Seaver wants to do an ethnography of engineers to get to know the algorithms.
During the panel discussion Nancy Baym states that we are talking about "the" algorithm, indicating a singular and stable object, while it has become clear that we may be talking about 500 different algorithms, created by 1000 different engineers. Should we talk of algorithmic systems instead of algorithms? This may be a good way into discussing the various objects and variables within algorithms that may each be connected to different databases (through APIs) and therefor become part of various algorithms themselves.
Algorithms are different in the beginning to "welcome" the user and to come to "know" the user to be able to a serve certain results or recommend objects.[↩]
"The A/B Test: Inside the Technology That's Changing the Rules of Business | Wired Business | Wired.com." 2013. Wired Business. Accessed May 13. http://www.wired.com/business/2012/04/ff_abtesting/.[↩]
On Saturday, May 4th I attended the 'Labor and Technologies of Surveillance' panel where Kelly Gates talked about 'Professionalizing Police Media Work: Surveillance Video & the Forensic Sensibility.' Gates, who has gone through an extensive training program in the field of video forensics as part of her research, discussed how raw video is not evidence despite video's aesthetics of objectivity. The imagery of video and audiovisual material are perceived as evidence but instead they are pointing to an indexality which is produced through the media production and in the process of post-production. Gates argues that "the status of video evidence as an index of real events—a sign or representation that offers a direct, empirical connection to material reality—is the result of an intentional process of production" (2013).1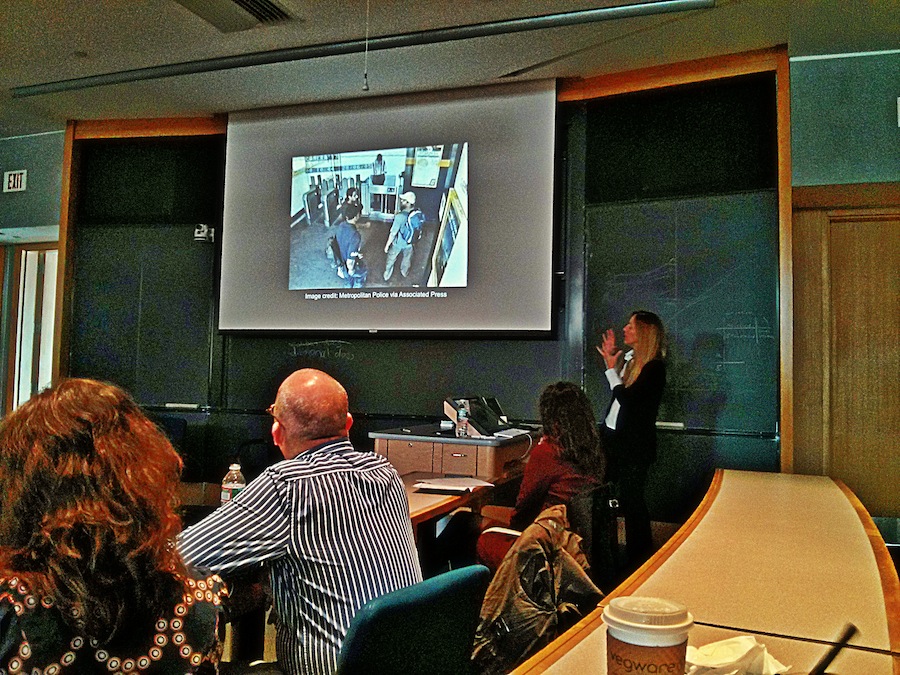 Temporal indexicality, where a timestamp in the video seems to point the moment in which it happened, is perceived as "objectivity" but Gates gives two reasons why a timestamp on a video cannot be considered objective evidence in court: First, the recorded surveillance video material may come from old VCRs and the time settings of the device may not be accurate.2 Second, you can use a time-code plugin to insert the timestamp afterwards.
Gates introduces the notion of "computational objectivity" as "an avenue to objective analytical results that aims to translate certain aspects of trained judgment into computational systems" (2013: 12). She builds on Daston & Galison's Objectivity (2007) who historicize objectivity as an epistemic virtue related to specific periods: from truth to nature to mechanic objectivity through trained judgement. She updates Daston & Galison's notion of "mechanic objectivity", which was related to photographic and other visual forms of media, to "computational objectivity" to describe the production of objectivity using visual media within the computational turn. Computers are not replacing the professionals, but professionals are learned to look at images with a computational eye:
The emerging field of forensic video analysis is one site where an epistemic virtue of ''computational objectivity'' is taking shape: the belief that neutral scientific image analysis can be achieved by translating certain forms of professional trained judgment into computational processes or, in this case, through the application of computational techniques by police professionals retrained as video specialists. (Gates 2013: 304)
Gates, Kelly. 2013. "The Cultural Labor of Surveillance: Video Forensics, Computational Objectivity, and the Production of Visual Evidence." Social Semiotics 0 (0): 1–19. doi:10.1080/10350330.2013.777593. http://www.tandfonline.com/doi/abs/10.1080/10350330.2013.777593.[↩]
Consider, for example, a power outage resetting the VCR or summer and winter time.[↩]
On Saturday, May 4th I attended the 'Art that Remembers and Forgets' panel where Raivo Kelomees talked about Privacy Experiments in Public and Artistic Space. Kelomees discussed two projects by Estonian artist Timo Toots: "Hall of Fame" (2009) and "Memopol" (2011). Both projects are a critique on how much information is publicly available from the Estonian chip-enabled identity card and publicly accessible databases such as governmental databases and search engines.
"Hall of Fame" (2009)
The Hall of Fame is an installation that calculates a user's artistic potential based on their publicly available identity information. People can participate by inserting their ID-card which is used as a starting point to gather information about the visitor from governmental databases and Google results:
The installation turns the visitor into a calculated subject where the algorithm for determining the artistic potential is as follows:
ARTIST = LUCK + FAME + DEATH
LUCK is calculated from data the visitor has no disposal of.
FAME is calculated from Google hits.
DEATH is calculated from the person's average life expectancy.
A dead artist is the best artist. 
Artist Timo Toots wants to bring to attention the data that can be read from the Estonian ID-card and how it can be used to gather even more publicly available data. It aims to make Estonian citizens reflect on Estonia's quick uptake of all kinds of new techniques and the creation of big relational governmental databases.
"Memopol" (2011)
The installation Memopol is even more tightly connected to governmental databases and people's digital footprint online and represents a city that remembers everything:
Memopol is a social machine that maps the visitor's information field. By inserting an identification document such as a national ID-card or passport into the machine, it starts collecting information about the visitor from (inter)national databases and the Internet. The data is then visualized on a large-scale custom display. People using the machine will be remembered by their names and portraits.

The Cyrillic spelling of the installation's name refers to George Orwell's concept of Big Brother from his dystopian novel "1984". Over the past decades, technological means have transformed the surveillance of society. When surfing on the Internet, paying with an ATM card, or using an ID card, people leave their digital traces everywhere. Internet and social networks gather and provide a great deal of personal information, and a person's profile is no longer constituted by his or her physical being alone, but also by the person's digital information, over which he or she sometimes has little control. Background checks through Internet search engines and social network sites have become routine when we meet somebody new or apply for a job. Memopol enables us to make a thorough background check of ourselves, mirroring back to us all the data about us that is recored. (Toots)
The Cyrillic spelling also refers to Estonia's Soviet past and KGB history which makes many citizens nervous about the current quick uptake of an ID-card that is connected to all kinds of governmental databases which themselves are also interconnected.
The two projects are artistic experiments in the public sphere which on the one hand could be seen as tests to see how citizens react when they are being confronted with the systems that are currently in place and on the other hand as a source of research for public behavior, so Kelomees argues.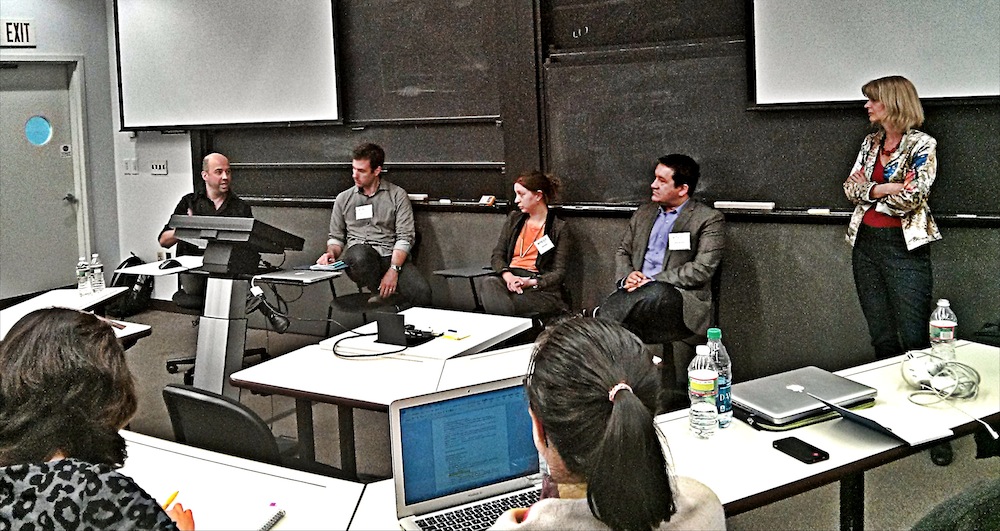 On Friday, May 3rd I attended the 'Social Media Platforms between Private, Public and Commercial Space' panel where Tarleton Gillespie talked about Curation by Algorithm. Based on his chapter 'The Relevance of Algorithms' [pdf] in the forthcoming book Media Technologies Gillespie posed a few questions:
1. What do these algorithms do?
Algorithms are part of the broader 'content moderation' picture where devices, search engines and algorithms help us sift through an enormous amount of content, for example by implementing recommendation algorithms. They also help present a carefully managed experience for first users by constructing a welcoming environment filled with (introduction) content or by guiding users to navigate them through the interface.
2. How are these algorithms understood?
Algorithms are often discussed in terms of filtering or censoring content, as put forward in The Filter Bubble, but to what extent do algorithms act on or are entangled in practices of censorship by other means? Gillespie shows the example of Apple's voice search Siri which couldn't find any abortion clinics when searching for them. While Apple quickly responded that this was a 'glitch' and not an intentional omission it caused a 'Siri is pro-life' controversy.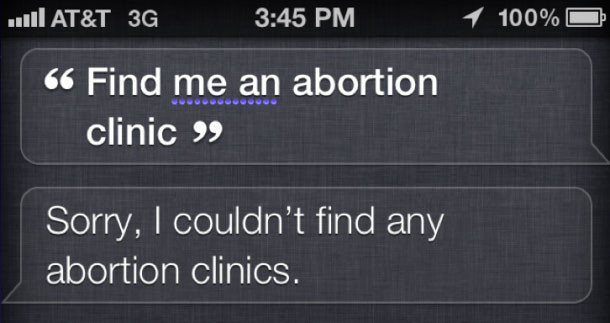 However, what actually happened is that Siri is a voice interface on top of search engines and it turns out that pro-life organizations are better optimized for SEO. When Siri showed no results for [abortion clinic] or showed pro-life results it wasn't because Apple is censoring pro-abortion results but because "Planned Parenthood doesn't call itself an abortion clinic" and because pro-life organizations use the term abortion more (see Search Engine Land on Why Siri Can't Find Abortion Clinics & How It's Not An Apple Conspiracy). Thus, these results weren't censored or 'algorithmically demoted' (Gillespie) but didn't appear due to SEO strategies or a lack thereof. Algorithms are blurring the line between of our understanding between removing and obscuring results.
The example of Apple's denial of a 'pro-life Siri' shows how "the providers of information algorithms must assert that their algorithm is impartial. The performance of algorithmic objectivity has become fundamental to the maintenance of these tools as legitimate brokers of relevant knowledge." (Gillespie 2013)
3. Who do they seem to belong to?
In the case of recommendation algorithms such as Google Instant's auto-complete algorithm it can seem like the site is speaking to us. The query [how to kill] doesn't show any results, or rather, any algorithmic recommendations, but it does seem to deliver Google a voice. Algorithmic results are conflated with the voice of Google.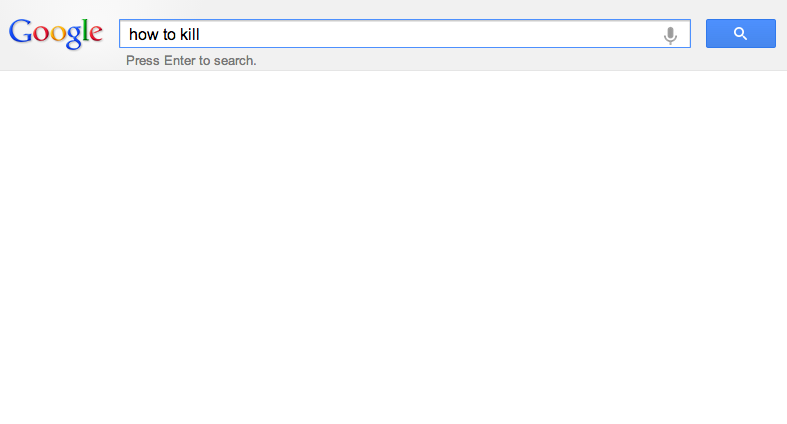 4. What are the fraught politics of algorithms?
Such examples show the politics of algorithms, the larger (web) practices they may be entangled in and how users read and act on algorithmic 'behavior' in a particular way.
5. How do they create "calculated publics?"
Algorithms may have particular consequences which Gillespie explains through the production of "calculated publics: how the algorithmic presentation of publics back to themselves shape a public's sense of itself, and who is best positioned to benefit from that knowledge." Building on the notion of 'networked publics' where publics are formed through social media, algorithms may shape and form publics too. Common critiques on the formation of publics within social media are related the daily me or filter bubble, whether or not we receive enough diverse perspectives through personalization. While not necessarily disagreeing with these critiques, Gillespie argues that there is also something else happening within networked publics where algorithms play a role in the constitution of publics. Not only do algorithms play a role in the filtering and displaying of content to inform publics but they also algorithmically shape publics:
But algorithms not only structure our interactions with others as members of networked publics; algorithms also traffic in calculated publics that they themselves produce. When Amazon recommends a book that "customers like you" bought, it is invoking and claiming to know a public with which we are invited to feel an affinity -though the population on which it bases these recommendations is not transparent, and is certainly not coterminous with its entire customer base. (Gillespie 2013)
While users may target a specific group of friends through their configuration of privacy settings (friends of friends on Facebook) or through the use of platform-specific features to target content at a specific group (hashtags on Twitter and Instagram), the social media platforms themselves construct publics through the use of an opaque algorithm and therewith the "friction between the 'networked publics' forged by users and the 'calculated publics' offered by algorithms further complicates the dynamics of networked sociality." (Gillespie 2013)
On Friday, May 3, I presented my paper Exploring the Boundaries of a Website: Using the Internet Archive to Study Historical Web Ecologies in 'The Internet as Archive' panel at MIT8. Co-panelist Chris Peterson talked about user-generated censorship as a form of censorship by algorithm. He gave a few examples of this type of censorship: First, the example of Facebook users flagging J30Strike.org links which led to Facebook blocking all links to J30Strike.org and subsequently blocking links from websites linking to J30Strike.org. Second, the example of the Digg Patriots group which down votes all liberal articles to game the system into displaying more conservative articles on the Digg frontage. This type of user-generated censorship by 'playing' the algorithm that organizes content is related to Taina Bucher's work on the threat of algorithmic invisibility on Facebook where she argues that the Facebook algorithm is designed in such a way that constant interaction with friends and the platform is needed in order to be visible to your friends in their NewsFeed. The algorithm does not only play an important role in the organization of content and friends but also in the (in)visibility of content and friends. Whereas on Facebook users may optimize their behavior/interactions in order to stay visible, the Digg Patriots group is more aligned with practices of negative 'optimization' by gaming the algorithm to influence the organization and ranking of content by aiming to make it invisible.
Related links from the MIT Center for Civic Media:
Betraying Expectations in User Generated Censorship
The Ark in the Archives: Toward A Theory of Link-Oriented Antiepistemology
Slides and notes from my conference presentation "Exploring the Boundaries of a Website. Using the Internet Archive to Study Historical Web Ecologies" at MiT8: public media, private media. May 3-5, 2013 at MIT, Cambridge, MA.
1.
I'm Anne, a PhD candidate and lecturer in New Media and Digital Culture at the University of Amsterdam. I am part of a research group called the Digital Methods Initiative which is dedicated to developing digital methods and tools to analyze and map web data. In this paper I want to, first, explore the boundaries of a website and propose to reconceptualize the website as an ecology, and second, to put the Internet Archive to new uses by proposing a new method to reconstruct historical web ecologies using Internet Archive data.
2.
What are the boundaries of a website? Where does a website begin and end? With the shift towards the web as platform, or Web 2.0, the boundaries of a website become become difficult to establish and delineate. In the early days of the web, often referred to as Web 1.0 or the 'Web-as-information- source', websites were created by webmasters and were fairly self-contained units as most content was stored on the same server (Song 2010: 251). Within Web 2.0, or the 'Web-as-participation-platform' websites are increasingly entangled in a networked context and shaped by third-party content and dynamically generated functionality. While a so-called "shift" to Web 2.0 is contested, and often considered a discursive move, we can see the emergence of a complex web ecology where the website is entangled in various relations with other websites but also ad servers, social media platforms and other actors that shape and permeate the boundaries of the website. So what about the website as an archived object?
3.
Most web archives take the website as the main unit of archiving (Brügger 2012, 5) and privilege the content of a website over its socio-technical context (Weltevrede 2009, 84). The website as an archived object is favored over other natively digital objects where the website is archived over "the references contained therein (hyperlinks), the systems that delivered them (engines), the ecology in which they may or may not thrive (the sphere) and the related pages, profiles and status updates on platforms" (Rogers 2013). Thus, in the archiving process the website is detached from the larger web context it resides in. The problem with archived websites is that they are separated from this context on various levels, think, for example, of the website's server log, its statistics (e.g. Google Analytics), its ranking on Alexa, its related web activities such as likes, shares or retweets, or its comment-space enabled by an external commenting system such as Disqus or Facebook Comments. Today I would like to address this problem of archived websites by proposing a new method to reconstruct parts of this larger context using Internet Archive data. But first, let's look at a website in detail to see how and where we can find traces of this larger context from within the website itself.
4.
As argued before, a website is no longer a self-contained unit but actively shaped by content hosted on content delivery networks, dynamically generated ads delivered by ad servers, and by social media platforms delivering a personalized website environment and extending their platform features using social plugins. If we look closely at a website, the source code of the website, we can detect the presence of various third-party actors exchanging content and functionality. Here, we have an example of the Huffington Post which uses content-delivery network Akamai, a number of ad servers such as Advertising.com and various social plugins such as the Twitter button and the Facebook Like button. All these different third-parties co-constitute and shape the website as they enable the circulation of content and data flows and at the same time they embed the website in various relations with actors such as ad servers, tracking companies and social media platforms. So what does that mean for the boundaries of a website?
5.
The Huffington Post uses social plugins to enable the sharing of their articles across various social media platforms and they also cross-post their own articles on these platforms. Social buttons are a good example of how the web operates as platform allowing content to circulate between websites and social media platforms and for websites to embed platform functionality such as liking, sharing and tweeting. Within the web as platform, APIs or application protocol interfaces, provide a structured exchange of data and functionality between platforms and services, apps and websites (see also Langlois et. al. 2009).
6.
This circulation of content opens up the boundaries of a website because commenting on an article is no longer restricted to the website's commentspace but commentspaces are now distributed across various social media platforms such as Twitter and Facebook (Helmond & Gerlitz 2010).
7.
The Huffington Post also incorporates related tweets on their website and thereby integrates this distributed commentspace on Twitter back into the article.
8.
Some news website have implemented Facebook Comments, which allow users to use their Facebook account to comment on an article. When you comment on an article the comment is shown beneath the article but is also posted on your Facebook News Feed. When someone replies on that comment from within Facebook, that comment is fed back into the website and shown into the comment section. Facebook Comments blur the boundaries of a website because comments may be exchanged between website and platform in both directions. Social plugins make the boundaries of a website permeable, as they allow for formatted content and functionality exchanges between websites and platforms.
9.
Besides these exchanges, social plugins also establish data exchanges in the background because most social plugins function as trackers (Gerlitz & Helmond 2013). In this Huffington Post example, the browser plugin Ghostery found 16 different trackers establishing data connections with third-parties including social media platforms such as Twitter and Facebook. The website is embedded in a complex network of trackers that operate invisibly in the back-end.
10.
Thus, I would like to propose to reconceptualize the website as ecology, following Matthew Fuller's notion of media ecology and David M. Berry's notion of computational ecology who both share an interest in ecologies of the non-human, where the website may be seen as the habitus of various actors on the web maintaining dyamic relations. In this paper I refer to website ecology as the study of relations of dynamically generated objects within websites and the interrelations with their environments, for example their interactions with social media platforms and tracking companies.
11.
The website is inhabited and co-constituted by various actors and the question here is how can we study the relations between these actors and the interrelations with their larger environment? How can use the website as an object of study to analyze larger web contexts beyond the website itself? And how can we use the archived website as an object of study to analyze historical states of the web that websites are embedded in?
12.
In this case study I would like to address a common problem with archived websites, where the website is archived over its context. Despite the focus on the website as the core archival unit and its detachment from the larger web context it resides in we can still see the traces of this assemblage within the website that point to the larger context outside of the website. I would like to show how we can use Internet Archive data to detect the traces of the web ecology a website is embedded and how the source code of an archived website provides a very rich source to reconstruct historical web ecologies.
13.
We can find the traces of the larger web ecology the archived website was embedded in the website's sourcecode. Here we do not only find the connections with other websites in the form of links, but we can also find connections with trackers. The point here is, that while JavaScript and dynamic content pose a problem for archiving because dynamic content is frozen in the archiving process and JavaScript functionality will not render, we can use these code traces to reconstruct historical states of the web. In this case study I focus on the presence of trackers on the New York Times website, to look at the website's relations with tracking companies over time to see how the website is embedded in various tracking practices over time.
14.
For this case study I used some tools created by the Digital Methods Initiative and I would like to briefly run you through the method and some initial findings.
15.
First I want to make to get the links to all the archived New York Times snapshots from the Internet Archive's Wayback machine to create a corpus. The Internet Archive Wayback Machine Link Ripper tool gets all the links to available archived snapshots.
16.
Second, I checked all these archived websites for the presence of third-party trackers using our Tracker Tracker tool. This tool is based on the previously mentioned browser-plugin Ghostery which detects over 1200 trackers on websites. We repurposed the tool so it can also detect trackers on websites archived in the Internet Archive's Wayback Machine. It looks for known patterns of trackers in the archived website's source code and outputs all the trackers found.
17.
I did this for sixteen years of available New York Times data. Here we see the number of unique trackers per year on the New York Times frontpage. In the beginning (1996-2000) the New York Times used first-party trackers. Over the years we see a proliferation of the type of trackers: in the early days trackers were mainly ads and trackers and later also analytics and widgets such as social plugins with tracking capabilities. There is a decline in trackers in 2004 but this is probably due to a gap in archived snapshots in the Internet Archive as you can see. In 2006 and 2007 there were 18 unique trackers on the NYT frontpage and after that we see a slow decline. One of the questions for further research would be whether this is due to media concentration.
18.
Here we see which trackers have been found and when, where we can see that DoubleClick has persistently been on the New York Times front-page and that new trackers have been introduced over the years. The Internet Archive recently updated its index and now has data up till a few weeks ago and I would like to include this data in further research to further investigate the diversity of trackers and the types of trackers over time: how has the tracking ecology changed over time?
19.
In a next step of this project I do not only want to look at trackers on an individual website such as the New York Times but at a network of websites. Here you see an example of the top 1000 websites according to Alexa and the large tracker ecology these websites are embedded in. I would like reconstruct historical tracking networks using the previously described method using the archived website as an entry point. In other words, by looking into the presence of third-party trackers on a selection of websites over time we can reconstruct historical web ecologies to reveal the complex tracking network that websites have been embedded over time.
20.
To conclude, today I have discussed the boundaries of a website by showing how they are shaped by third-parties, permeating the boundaries of a website, and embedded in a complex web ecology including social media platforms and trackers. In my case study have put the Internet Archive to new use to show how the source code of an archived website provides a very rich source to reconstruct historical web ecologies.
Bibliography
Berry, David M. 2012. "Life in Code and Software." Living Books About Life. September 23.
Brügger, Niels. 2012. "Web Historiography and Internet Studies: Challenges and Perspectives." New Media & Society (November 21). doi:10.1177/1461444812462852.
Fuller, Matthew. 2005. Media Ecologies: Materialist Energies In Art And Technoculture. Cambridge: MIT Press.
Gerlitz, Carolin, and Anne Helmond. 2013. "The Like Economy: Social Buttons and the Data-intensive Web." New Media & Society (February 4). doi:10.1177/1461444812472322.
Helmond, Anne and Carolin Gerlitz. 2010. Distributed Commentspaces.
Langlois, Ganaele, Fenwick McKelvey, Greg Elmer, and Kenneth Werbin. 2009. "Mapping Commercial Web 2.0 Worlds: Towards a New Critical Ontogenesis" (14).
Rogers, Richard. 2013. Digital Methods. Cambridge: MIT Press.
Song, Felicia Wu. "Theorizing Web 2.0." Information, Communication and Society 13, no. 2 (2010): 249–275. doi:10.1080/13691180902914610.
Weltevrede, Esther. 2009. "Thinking Nationally with the Web: A Medium-specific Approach to the National Turn in Web Archiving." Amsterdam: University of Amsterdam.